Founded in 2012.
E-Green LLC, is a start-up company that develops smart lighting technology. Since its founding in 2012, the company had the vision to change conventional lighting systems and develop innovative lighting technology that facilitates the way people interact with light.
Specifically, E-Green offers products and solutions that allow users to move the light beam with ease, and to adjust the brightness of the light beam with precision, by using a smartphone or remote control.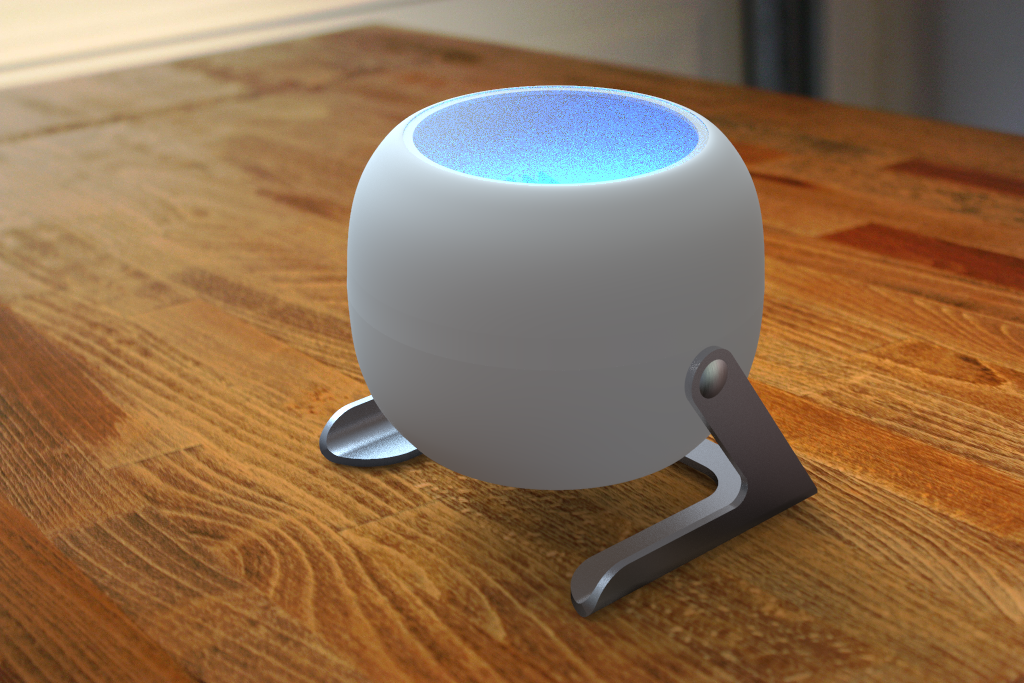 ---
Our Story
Our founder's journey began when he moved to a new apartment complex and noticed the lack of proper lighting installations, leaving many areas without adequate illumination. The kitchen, bathrooms, and hallways had ceiling fixtures, but for the other rooms, tenants had to provide their own light sources.
To address this frustrating issue, he bought several floor and table lamps, but they couldn't provide the perfect illumination where he needed it most.
Even when reading a book, he had to constantly adjust his position to get enough light, and the lamps didn't offer the desired brightness or ambiance. The inconvenience of managing multiple lamps only added to his frustration.

Driven by these personal experiences, our founder envisioned a smarter lighting solution. He dreamed of a technology that allowed people to effortlessly move and control light beams precisely where they needed them. This smart lighting would offer customizable brightness, catering to various needs, all conveniently adjustable via smartphones and remote controls.
---
Our Product
Output multiple colors at the same time.
E-Prism outputs multiple colors simultaneously. The colors belong to various color-mixing regions. The center is a three-color mixing region. Regions surrounding the center are two-color mixing regions. Outer regions are one-color regions. Light from different color-mixing regions produces different numbers of color shadows.
E-Prism projects multicolor shadows of objects on surfaces.
Each object can have multiple shadows of different colors.
The color contrast and spatial separation among different color shadows produce a three-dimensional perception of the image.
In this projection, the decoration hanging on the wall appears in front of the plant color shadows.
The leaves not only go from left to right and up and down but also in and out at different angles.
Colors are blended naturally, appearing at different places and varying in intensity.
Shadows can be darker in some places and lighter, even fading in others.
The dark shadows and variation of colors reinforce the three-dimensional perception of the image.
When E-Prism's color beam illuminates objects with complex structures, structure details are revealed. Color shadows of parts from one layer are projected on parts of the layers behind. Colors reflected from different parts color mix to form new colors. This immerses the whole structure in a bath of colors.
Color shadows allow users to interact with image projection.
Motion of users or objects is reflected by the movement of the color shadows and color mixing.
Still places without motion have no multicolor changing.
The picture was taken on a windy night in California.
An E-Prism was hanging in a tree.
Colorful branches and leaves were projections of color shadows from other branches and leaves.
The branches were heavier and didn't move much.
The leaves (green) and their color shadows (non-green) moved rhythmically, manifested by the color blending and shifting.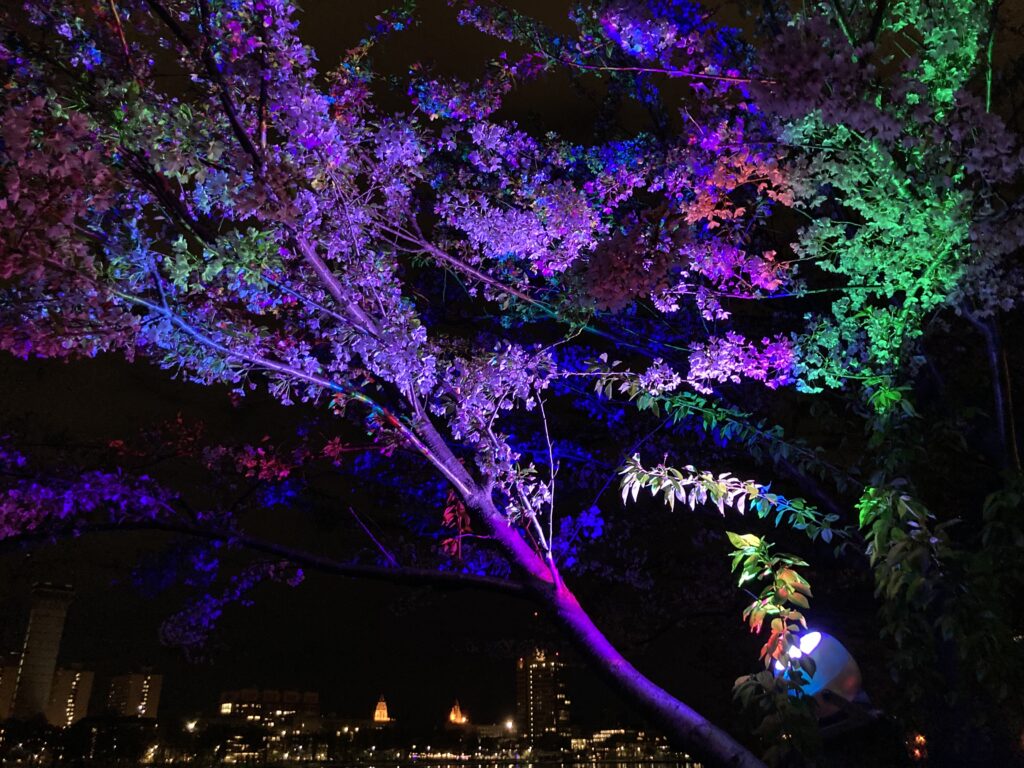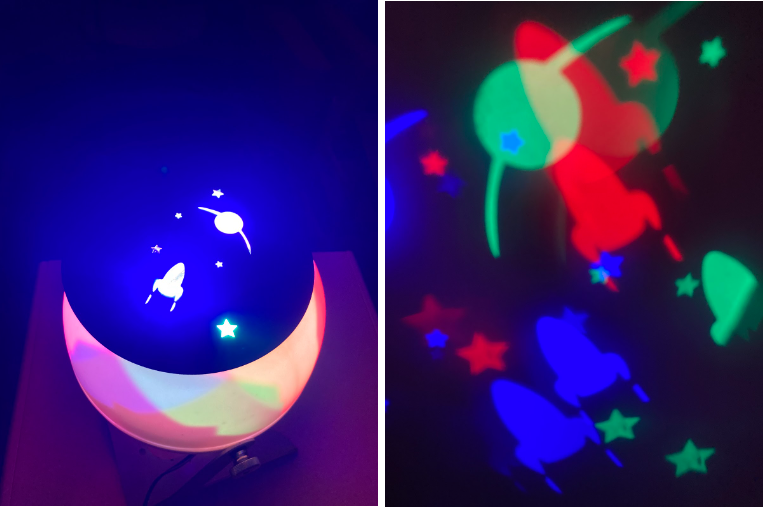 Besides color shadows, E-Prism can also create color-mixing images from cut-out patterns. Each cut-out can produce up to six images of different colors. When color images from different cut-outs overlap, they color mix to form new colors. This color mixing creates a beautiful colorful image. The cut-out pattern can be generated from laser cutting or users' own creations. This feature gives children an opportunity to create their own art.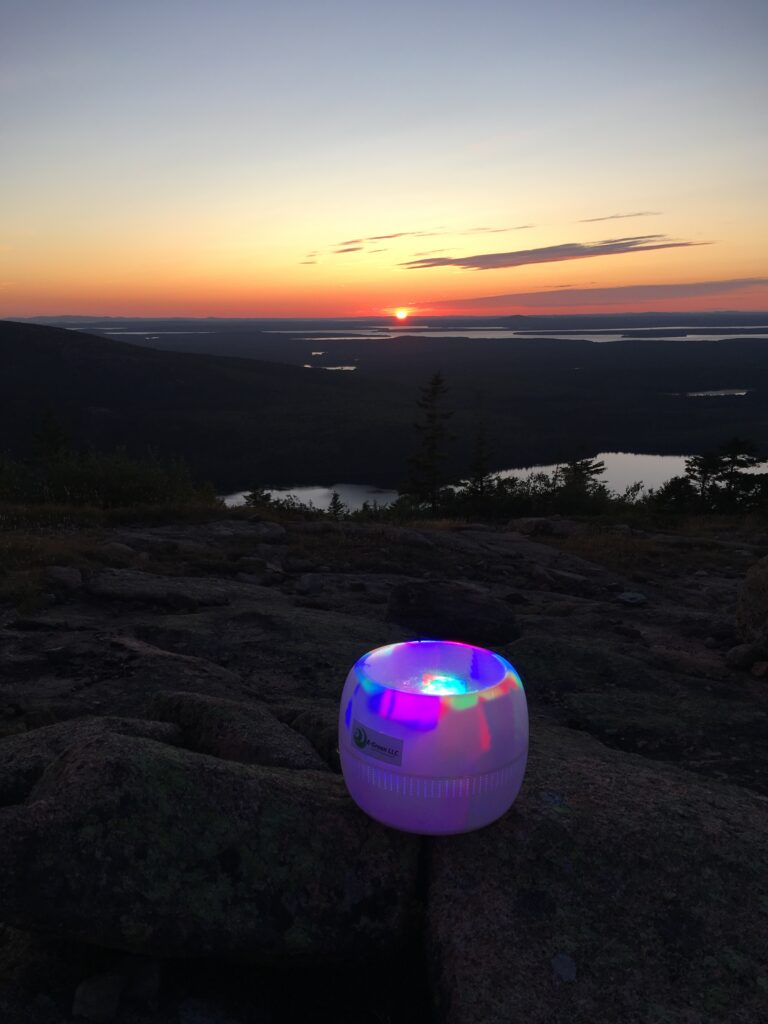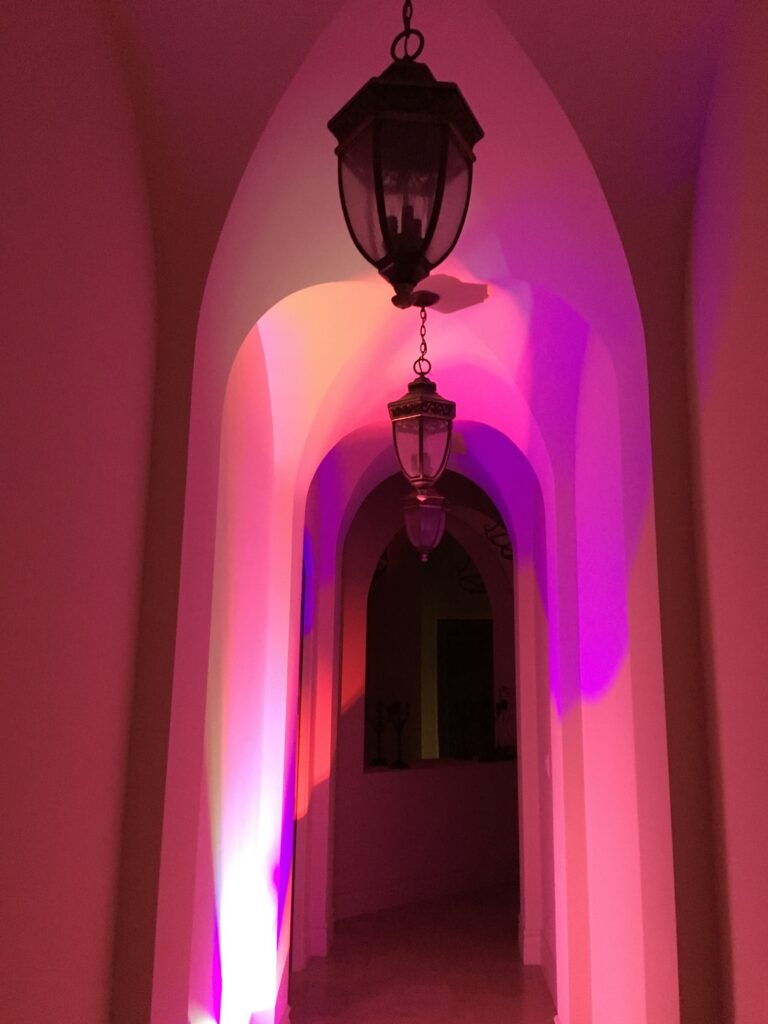 E-Prism can be connected to your phone via Bluetooth. Its color-changing App can be downloaded from the Apple store and Google play. It has many powerful features. Users can change colors automatically with fade and delay adjustable settings or manually. There are preset color buttons. One can instantly change to these preset color settings by pressing these buttons.
To download the E-Prism App, please scan the QR codes